We're Adding Extra Doors to this pair of Cadillac Escalade ESVs – Perfect for the Transportation or Limousine Industry
Title: Enhancing Your Ride: Adding Extra Doors to Your Customized Cadillac Escalade ESV
Introducing the latest customizations from Quality Coachworks – a stunning pair of 2023 Cadillac Escalade ESV 6 Door models designed to elevate your transportation and limousine experience. Discover the luxurious features that make these Customized Escalade ESVs stand out:
1. Two Additional Center Doors: Experience unmatched convenience with the addition of two extra center doors, providing easy access for passengers and ensuring seamless entry and exit.
2. Enhanced Functionality: The newly added doors are equipped with power windows and door locks, granting passengers control over their environment for a more comfortable and personalized journey.
3. Factory-Matching Precision: Quality Coachworks pays meticulous attention to detail, ensuring that the new seats, mats, trim, and carpet are precisely matched to the original factory design, maintaining the Escalade ESV's luxurious appeal.
4. Impressive 22-Inch Wheels and Tires: Make a statement on the road with 22-inch wheels and tires that not only enhance the vehicle's aesthetics but also provide a smooth and stable ride.
5. Fixed Running Boards: Complementing the overall design, fixed running boards add a touch of sophistication while facilitating effortless boarding for passengers.
6. Elegant Crystal White Tricoat Paint: The Customized Escalade ESVs boast a sleek Crystal White Tricoat paint finish, exuding elegance and making a lasting impression.
7. Spacious 10-11 Passenger Capacity: With ample room for passengers, these custom ESVs cater to larger groups, making them ideal for corporate events, celebrations, and luxurious travel experiences.
8. Luxurious Pilot's Cabin: The driver's cabin reflects the epitome of luxury, providing a comfortable and refined environment for the chauffeur to navigate with ease and sophistication.
When it comes to adding extra doors to your Cadillac Escalade ESV, Quality Coachworks sets the standard for excellence in craftsmanship and customization. Elevate your driving experience and impress your passengers with these stunning customizations that are perfect for the transportation and limousine business. Embrace the epitome of luxury and refinement with a Customized Escalade ESV from Quality Coachworks.

View Our 2023 Cadillac Escalade ESV 6 Door Conversion Gallery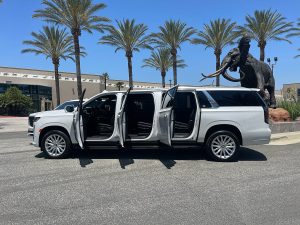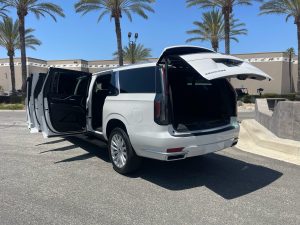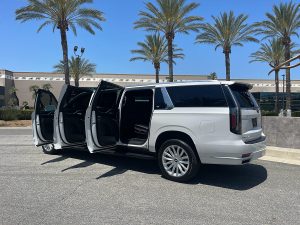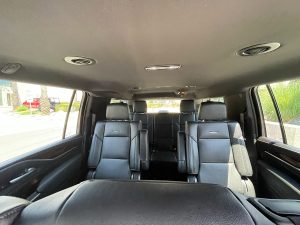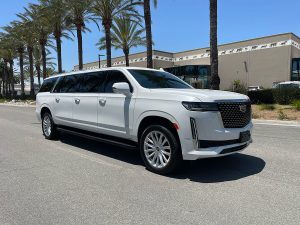 Check out our video on this2023 Cadillac Escalade ESV 6 Door:

Looking to customize your Cadillac Escalade ESV or other? Contact us today for a free quote!