Law Enforcement
Protection Features
QC Armor in cooperation with our law enforcement advisory board have created a series of light armor packages offering added safety to the law enforcement professional. With several levels of protection as well as custom builds available we are proud to introduce our LE (law enforcement) line up of vehicles. While offering an added level of security and giving the officer options in the event of an active shooter, the image shown offers an overview of just some of the options available.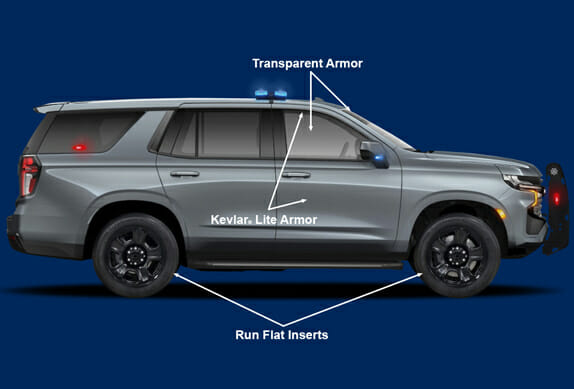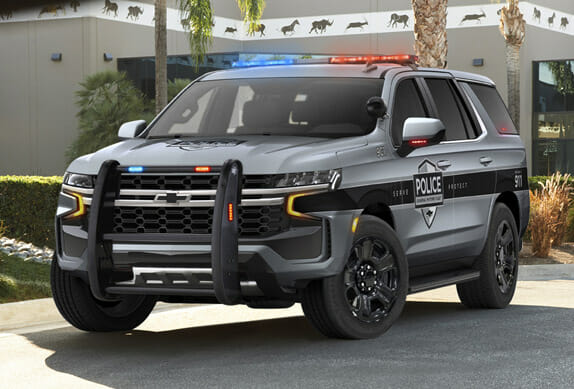 SUV or Sedan (Tahoe Shown)
LE4
All forward facing glass is replaced with level B4 transparent armor capable of withstanding multiple rounds from a .44 magnum. Specifically, the windshield and both front door glass is replaced.
Front door glass will still be operational with limited travel.
Both front door inner skins are reinforced to protection level B4 opaque armor known as Kevlar®
Opaque armor is installed in the front 1/3rd of roof line protecting the occupants from overhead attack such as an over pass.
Run flat rollers are installed on four wheels allowing for a controlled exit even with damaged or destroyed tires.
SUV or Sedan
(Ford Interceptor Shown)
LE3
Replacement of windshield only with level B4 transparent armor allowing for protection up to .44 Magnum.
Replacement of front door glass with level B4 transparent armor while maintaining partial operation of glass movement.
Installation of Kevlar® in both front doors allowing for a safer return fire platform.
Installation of 3M Mylar safety film on all door glass and rear hatch. Mylar slows penetration to passenger compartment by containing shattered glass thus preventing incendiary devises from entering.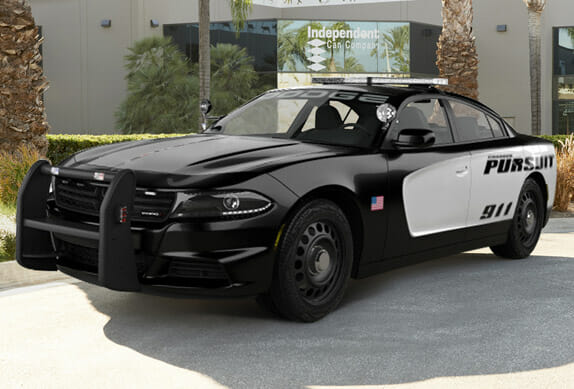 SUV or Sedan (Dodge Charger Shown)
LE2
Our most requested package offers sensible security to the occupants while minimizing additional weight. With forward facing protection in a return fire scenario this package offers options in high stress situation. Replace windshield with Level B4 transparent armor. Install level B4 Kevlar® in both front doors. 
SUV or Sedan
(Tesla Model Y Shown)
LE1
With limited budgets a reality, this beginning package offers protection to the front seat occupants from incoming rounds in scenarios such as pursuit or ambush. With the ballistic glass it also protects the patrol occupant from heavy road hazards that may be experienced during routine patrol. Replace front windshield with level B4 transparent armor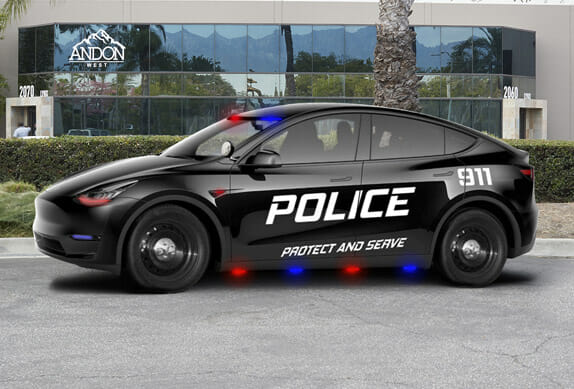 For some vehicles in the fleet that may be used for urban patrol where light armor may not be required, we can craft customized packages to meet the needs of any agency. One example below could come with simple crowd control protection on the glass deterring entry to the vehicle from smashed windows. This package could include electric shocking door handles that gives the potential intruder a 110V low amperage jolt when touching the exterior door handle. Another option is pepper spray deployment from 2 spray ports mounted to the top of the outside rear view mirrors.
The possibilities are only limited by the needs and budget of the agency.
With Crime rates on the rise in many of our major cities and agencies finding themselves short staffed and over worked, the team at QC Armor has developed an added layer of officer protection. Our LE ( Law Enforcement) packages are intended to give the occupant(s) of the vehicle survivability options by up-armoring patrol vehicles giving the front doors and windshield an added level of armored protection. The intent is to provide the occupants of the patrol vehicle a higher level of security if involved in an active shooter scenario or instances where return fire is required. Be advised, this is not intended to circumvent any P.O.S.T. training but intended to offer options to the Law Enforcement professional.
With various levels of protection available, the standard LE1 package would offer level B4 transparent armor (glass),replacing the windshield and both front door windows with a glass over ballistic polycarbonate. The front doors would have lightweight B4 ballistic panels made of Kevlar® inserted behind the factory door skin giving the Law Enforcement professional a secure return fire position. Our advisory board made it clear that effective patrol of high crime environments requires operational windows. The transparent armor in both front doors will operate to about 50% travel of OEM glass. As a reference, level B4 is capable of withstanding assault from handguns up to .44 magnum.
Proposed LE2 package would include all features of the LE1 with the addition of 3M® safety film on the rear door and rear windscreen on sedans or rear hatch glass on SUV's. The safety film is a thick, transparent variant of window tint that contains a breached (shattered) window in place with reinforced window trim. This would require the attacker to endure a prolonged attack with makeshift weapons often deployed during civil unrest. This does not offer ballistic protection, but it will offer the occupants of the vehicle time to exit the area as well as slow the ability of the attacker to gain entry through the failed windows. This typically prevents the deployment of incendiary devices, flash bang devices or other forms of occupant attack. Details can be found at https://www.3m.com/3M/en_US/p/d/b40028256/
Proposed LE3 would have all features of the Level 2 with the added security of a lightweight Kevlar® drop down panel that replaces the lower half of the front door inner panels. This would allow for added protection of the officer's lower extremities when kneeling behind the open door commonly experienced in a return fire scenario. The Law Enforcement professional would have the confidence to partially exit the vehicle, assuming a return fire position and not be concerned with skip rounds impacting the legs, ankles, or feet.
Other options could be a 1/3 armored protection of the roof line preventing handgun attack from over passes for example. The client could customize radio cars and surveillance vans to fit the individual needs of the department.
Advisory Board
While the team of Quality Coachworks and QC Armor are well versed at design and manufacturing, we acknowledge we are not experienced in the needs of the Law Enforcement community. We have built specialty vehicles for several agencies and have taken many inquiries, however, with the growth of the LE vertical, we have formed an advisory board consisting of two seasoned veterans of large agencies but experiencing different scenarios, meaning, the Los Angeles County Sheriff's department may experience something close to urban warfare while the Illinois State police may experience a scenario where backup is nowhere close, and the individual may not have alternative cover. With the differences in daily encounters, we are offering options for varying scenarios.
Master Field Training Officer John Savay
Instructor Bio
As a veteran of 33 Years in the Los Angeles County Sheriff's Department, John Savay's assignments included, Jail Gangs, Uniformed Patrol and Special Problems Team. After these positions he continued his career in patrol. He worked 10 years as a Field Training Officer working primarily in South Los Angeles at Lennox Sheriff's Station. And the following 13 years as a Master Field Training Officer working at Compton, Lennox, and West Hollywood Stations.
The Master FTO program involves routinely working in the field on patrol with newly assigned deputies and training deputies in advanced field tactics at the Academy. He primarily teaches Entry Tactics for patrol and small teams (Detectives), Deputy Down Rescue, Counter Vehicle Ambush, Active Shooter Response, and T.C.C.C. Due to the nature of this assignment, Masters are sent to a multitude of certified instructor classes to accomplish our mission. There are currently 6 Master FTO's in The Los Angeles County Sheriff's Department.
California D.O.J. P.O.S.T. Certified Academy Instructor
L.A.S.D. Tactics Instructor
L.A.S.D. Active Shooter Instructor
L.A.S.D. Enhanced Active Shooter Strategies Instructor
Taser International X26 and X26P Instructor
General Dynamics Certified Simunition Instructor
L.A.S.D. Emergency Vehicle Operations Instructor
Tactical Combat Casualty Care Instructor ( Certified EMT )
California P.O.S.T. Law Enforcement Response for the mentally Ill Instructor
California P.O.S.T. Certified Field Training Program Manager
L.A.S.D. Narcan ( Naloxone ) Administration Instructor
Deputy chief of staff in ISP's Division of Operations: Bruce Liebe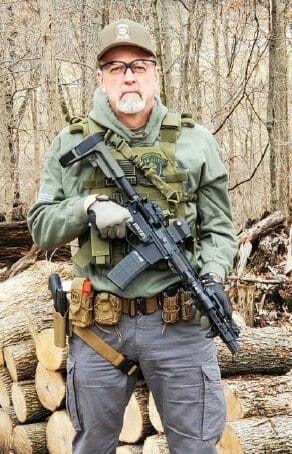 Instructor Bio
Bruce Liebe is a 30-year veteran of law enforcement, serving 25 years with the Illinois State Police. With the ISP, he was assigned to the Tactical Response Team (SWAT) for 13 years, serving as statewide program coordinator, assistant team leader and entry team member. At retirement, he was assigned as deputy chief of staff in ISP's Division of Operations. He served an assistant professor of homeland security and senior director of the School of Professional Studies and at MacMurray College in Jacksonville, Illinois. He is a member of the National Tactical Officers Association and the Illinois Tactical Officers Association. Bruce is a featured author for the National Tactical Officers journal, The Tactical Edge, where he has contributed 22 articles to date centering on tactical training, tactical program administration, and operations planning and management. He consults internationally on these topics.
Liebe presently operates Paladin Tactical LLC which offers training and consulting services. He is certified by the Illinois Law Enforcement Training and Standards Board as an Active Threat Master Instructor and is certified by the Force Science Institute as a Realistic De-Escalation Instructor. Liebe holds an A.A.S. in criminal justice from Illinois Valley Community College and a B.A. in criminal justice and an M.A. in legal studies from the University of Illinois at Springfield. He is a graduate of the Southern Police Institute, Administrative Officers Course at the University of Louisville.